Hello all,
I am attempting my first try at converting DICOM files to mif format along with .bvec & .bval files.
I am running the following command
mrconvert ~/Documents/DWI/Subj_01/011_DICOMimages -fslgrad ~/Documents/DWI/Subj_01/011_DICOMimages/Subj01.bvec ~/Documents/DWI/Subj_01/011_DICOMimages/Subj01.bval Converted_Subj01.mif 

I want to make sure if the above command is correct and if it will include the .bvec/.bval info in the outputted .mif file? Are there any other steps/options I am missing?
I would like to proceed with distortion corrections after this step. But do I run distortion correction on the outputted (Converted_Subj01.mif) file from the above step or use the original DICOM images? Additionally, I am bit confused about how to correctly use the topup/rpe command. I have 2 folders named "dti_b0_PA" and "dti_b0_AP" in my DWI directory. These folders contain files named from 0001.dcm - 0064.dcm. Have I written the command below correctly?
$ mrcat dti_b0_PA/ dti_b0_AP/ b0s.mif

I'm not sure how to modify the subsequent command given the folders mentioned in my DWI directory. Can anyone help me edit this one please?
$ dwipreproc 004_-_DWI_phaseAP/ dwi_preprocessed.mif -pe_dir AP -rpe_pair -se_epi b0s.mif [ -readout_time 0.1 ]
EDIT: including a snapshot of folders located inside DWI/Subj_01 directory.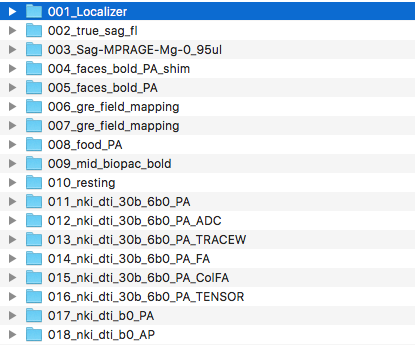 If there's any other information I can provide, please let me know.
Thank you in advance.