I'm running on Debian Testing (buster) with kernel 4.15.0-2-amd64. My output of mrview -version is:
== mrview 3.0_RC2-132-ge25f7c6d ==
64 bit release version, built Apr 10 2018, using Eigen 3.2.10
Here is a screenshot of what I have in the OpenGL information window: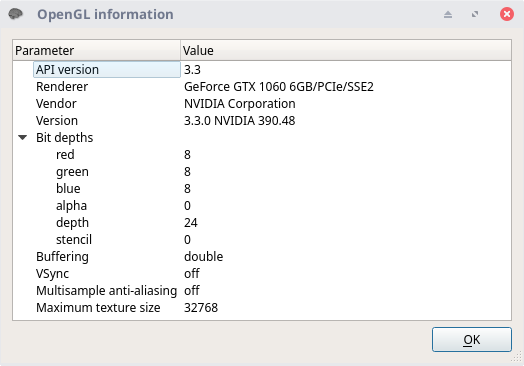 I don't remember any previous visual artifact with mrview. I've done visualization with spheres and cubes. I've also plotted ODFs without a problem.
I've tried viewing the data I sent you in a Ubuntu 16.04 with Intel Graphics and in my laptop with Debian Testing with Intel Graphics too and I have the same problem in all of them.
I've also tried to run mrview with -debug flag, but I didn't see any relevant message. If you want me to try something else, please tell me.
Alberto.