Dear Mrtrix experts,
I am trying to run tractography using Mrtrix3 from cerebellum deep nuclei to contralateral thalamus.
I have 2 following questions:
Whether ACT was used or not, the outcomes were too much variable across participants. I ran exactly the same script for all participants. The ROIs (after the registration) have been visually checked for any anomalies. Would it be possible to give some advise?

This is computer specifications which I used in my analysis:
Is it usual to take around 7 hours when I run tractography using -act option? Without the -act option it only took 30 minutes. By looking at my results using -act option seems to be more anatomically reasonable…
I am working with a DTI study with the following parameters:
b=1000 s/mm2
64 directions acquired
voxel size: 1.875 x 1.875 x 3.5
I am a beginner in this software, so I have performed eddy current correction and bet using FSL. Then I have performed mrconvert to convert into mif file, then dwi2response tournier and dwi2fod csd was done to get fod map. and 5TT image was created with original T1 image using 5ttgen and transformconvert with mrtransform was used to register into diffusion space.
Here is tckgen command I used : tckgen fod.mif output.tck -act 5TTimage -backtrack -crop_at_gmwmi -select 200000 -step 0.375 -cutoff 0.15 -angle 10 -seed_image Left_cerebellar_deep_nuclei -include Right_thalamus
However, only poor number of streamlines were found so I added -max_attempts_per_seed 15000 option to get more number of streamlines. (this process took 7 hours using 12 core cpu)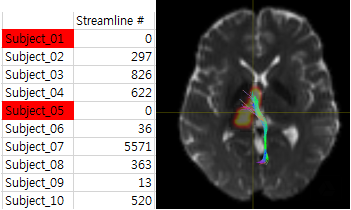 I found that streamline number varies a lot within the subjects.
So I ran without using 5TT image : tckgen fod.mif output.tck -select 5000 -seed_direction 0,1,1 -seed_unidirectional -step 0.375 -cutoff 0.15 -angle 10 -seed_image Left_cerebellar_deep_nuclei -include Right_thalamus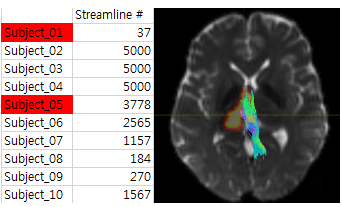 I still found varying streamline number for each subjects.
What is the problem here? why do I get completely different number of streamlines for each subjects? Is there something which I can change to improve my final .tck file with even number of streamlines?
Any comments would very much be appreciated.
Thank you,
Best regards,
Jeehyung