Hi Mrtrix experts.
I used mrtrix to build the structural connectivity to analyze the alternation of schizophrenia subjects connectivity.
Then, I created the connectivity matrix by these commands, and I got the fibers like this.
Unfortunately, I found some of the loop strange fibers in some sub-networks, and I think these tracts are not suited from biological aspects.
So, I want to know why these loop fibers were generated, and how to overcome this problem.
My data is single shell low b-value (1000) and 16 direction data, and this color scheme of this visualization is endpoint based.
(result)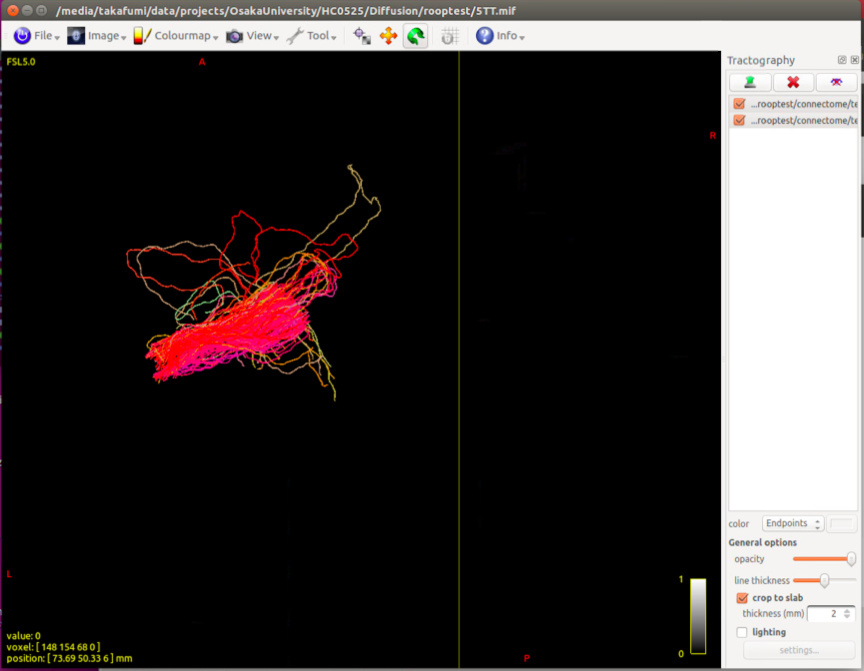 (command)
# Diffusion image processing by mrtrix
  mrconvert reg_eddy DWI.mif -fslgrad GE15dir-b1000.bvec GE15dir-b1000.bval
  dwi2response dhollander DWI.mif RF_WM.txt RF_GM.txt RF_CSF.txt
  dwi2fod msmt_csd DWI.mif RF_WM.txt WM_FODs.mif RF_GM.txt GM_FODs.mif RF_CSF.txt CSF_FODs.mif

  # Diffusion tractography processing by mrtrix
  tckgen WM_FODs.mif 5M.tck -act 5TT.mif -backtrack -crop_at_gmwmi -seed_dynamic WM_FODs.mif -maxlength 250 -number 5M

 tck2connectome 5M.tck subj_AAL_fix_no_cellebrum.nii.gz no_cellebrum.csv -zero_diagonal -out_assignments no_cellebrum_assignments.txt
 mkdir connetome
 cd connetome
 connectome2tck -nodes 3,6,7,9,42 ../5M.tck ../no_cellebrum_assignments.txt tracts