Hello experts,
I have generated TW FA files, which look on point (please see screenshots), but the values seem to be way off.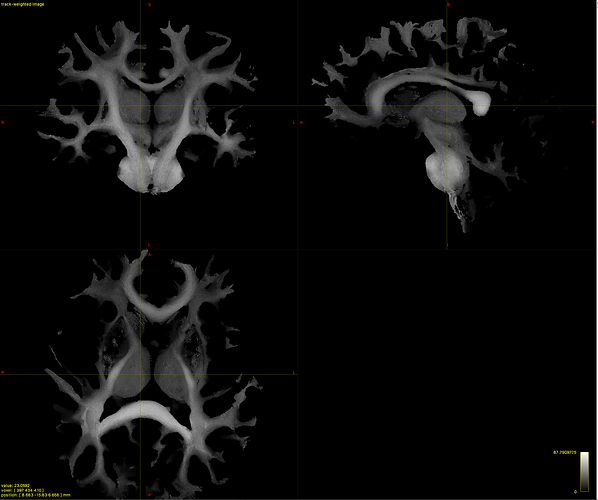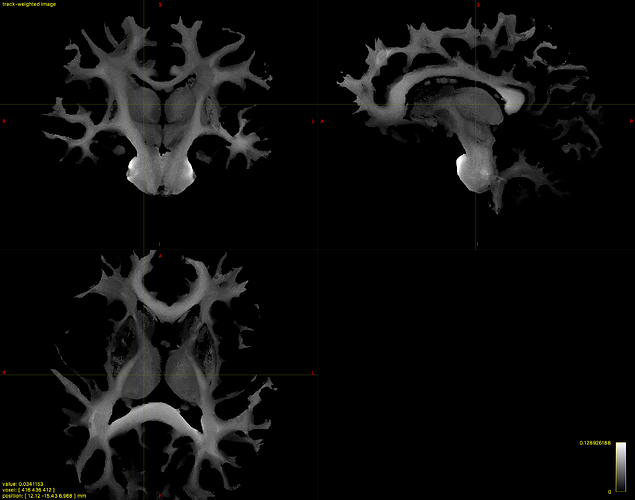 Going back to my original FA.mif for this subject, I found that those values are not between 0 and 1:
mrstats FA.mif
  volume       mean     median      stdev        min        max      count

   [ 0 ]  0.0491714          0   0.128899          0    1.22474    3571506

When I compute FA for this subject with either DTIFIT or RESTORE, the values are textbook-like: from 0 to 1. I could use other packages to get around this issue, but I'd prefer to stay within MRTrix for consistency, and also I'd love to understand what's going on. That said, images look great, so I'm not quite sure what I'm doing wrong. The data is HARDI, 63 directions (350, 800, and 2000), 6 B0, plus 6 B0 in opposite direction for TOPUP, was preprocessed including denoise, TOPUP, Gibbs ringing and eddy correction (with repol), 1.8 isotropic upsampled to 1.3 (I've ran FBA on this with some exciting results, hence the upsampling size I did according to your recommendations from the FBA documentation). I used dwi2tensor as in the default setting, with 2 iterative reweightings. Masking for 1.3 images was done by dwi2mask with subsequent manual correction. Not sure what other details I can provide, please let me know if I can provide more information / pictures / stats. I'm puzzled, please advise!
In case needed, here is the command I used to generate TW files:
tckmap 10M.tck -tck_weights_in sift2.txt TW-FA.mif -vox 0.18 -contrast scalar_map -image FA.mif -stat_vox mean -stat_tck sum
Thanks!
Olga