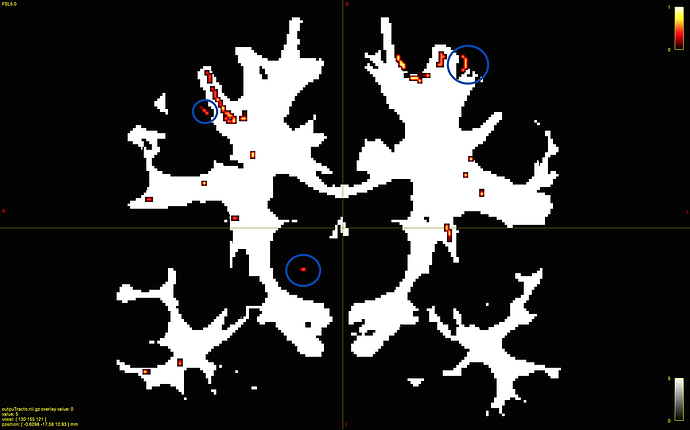 Hi,
From a HCP subject we would like to get a mask which contains those tracks calculated according to HCP MRtrix tutorial.
Considering the paper: Jeurissen, B. et al (2014). Multi-tissue constrained spherical deconvolution for improved analysis of multi-shell diffusion MRI data. NeuroImage, 103, 411-426. The white matter is defined as:
WM value > 0.95 and FA>0.7.
In other to get this mask, we used the wm.mif file (obtained from 5TTgen command) and we applied on it a threshold > 0.95 (using fsl -thr 0.95).
Checking the visualization of the fibers (actually a subset of 100 fibers through tckedit command) on our white matter mask, we see fiber voxels placed out of the mask.
Are we using a wrong criterion to definition of the mask where the tracks should be?
We attach one picture indicating with blue circles some examples of what we are seeing.
In white: our mask, In red: tracks
Thank you very much in advance.