Dear Mrtrix experts,
Im trying to generate the 5tt file. I run the command
5ttgen fsl T1_in_diff_spc.nii.gz 5tt.nii.gz -mask T1_in_diff_spc.nii.gz -sgm_amyg_hipp -nocrop -force
, but the subcortical GM volume that it creates, doesn't seem to be correct. See below (it should look like the red regions, but I get the white regions)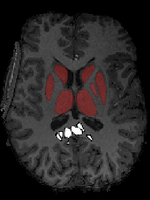 Any clues on what might be working wrong?
Really appreciate for your work,
Thank you!