Hi,
I am trying to run ACT tractography based on Brainnetome Atlas (BN) on HCP dataset using ISMRM tutorial for such analysis. It is a fine-grained atlas that is highly being used by the fMRI community and can be used for DWI-fMRI combinational studies.
I've got a few questions, and please accept my apologies in advance if the subject becomes a bit FreeSurfer-y.
To do analysis based on the tutorial, one has to download preprocessed DWI and preprocessed structural data (for T1w_acpc_dc_restore_brain.nii.gz). However, to convert native-space FreeSurfer default labels to BN requires downloading structural preprocessed extended data. I wonder which file from this package can be used as T1w_acpc_dc_restore_brain, so I don't need to download both structural packages (such as T1.hires.masked or brain.mgz).

[FreeSurfer-y part] As far as I know, aparc+aseg.mgz does not include the BN labels/codes and I have to somehow relabel the data. To do so, I downloaded BN_FreeSurfer and relabeled rh/lh.cortex.label into rh/lh.BN_atlas.annot and transformed BN_subcortical atlas into native-space using these commands:
mris_ca_label -l $SUBJECTS_DIR/$SubjectID/label/lh.cortex.label $SubjectID lh[/rh] $SUBJECTS_DIR/$Subject/surf/lh[/rh].sphere.reg lh[/rh].BN_Atlas.gcs $SUBJECTS_DIR/$SubjectID/label/lh[/rh].BN_Atlas.annot
mri_ca_label $SUBJECTS_DIR/$SubjectID/mri/brain.mgz $SUBJECTS_DIR/$SubjectID/mri/transforms/talairach.m3z BN_Atlas_subcortex.gca $SUBJECTS_DIR/$SubjectID/mri/BN_Atlas_subcortex.mgz
Now, I have to make an aparc+aseg.mgz using these labels:
mri_aparc2aseg --s $SubjectID --volmask --aseg BN_Atlas_subcortex.mgz --annot BN_Atlas --annot-table BN_Atlas_LUT_246.txt
This generates BN_Atlas+aseg.mgz which visually resembles aparc+aseg.mgz with higher values for subcortical nuclei. However, I am not sure whether my commands are correct or not (I highly suspect that I should use --aseg aseg instead of --aseg BN_Atlas_subcortex.mgz)
Using labelconvert on the generated BN_Atlas+aseg.mgz from the previous step:
labelconvert BN_Atlas+aseg.mgz BN_Atlas_210_LUT.txt BN_Atlas_210_LUT.txt nodes.mif
generates a nodes.mif in which one hemisphere's WM is colored (figure below). My guess is on the difference in the structure of BN_Atlas_210_LUT.txt (downloadable from the link above), but it is very similar to fs_default.txt. Since BN atlas can be used by many users I wonder whether there is a possibility to add a file like fs_default.txt for it or a way to manually change it.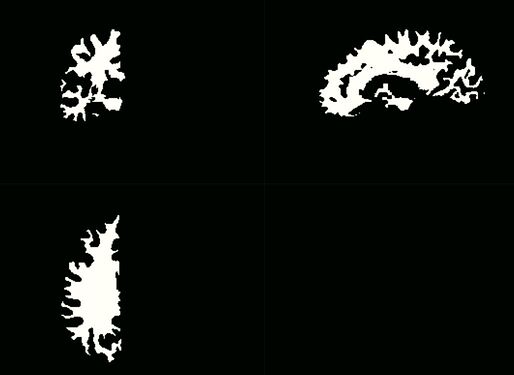 Bests,
Amir