Hi MRtrix community,
I have a question to ask about the networks. Sorry if this is too trivial!
Compared to other networks I've seen in the past, I am deriving noticeably denser networks from MRtrix: CSD -> ACT -> SIFT with seeding from the GMWMI.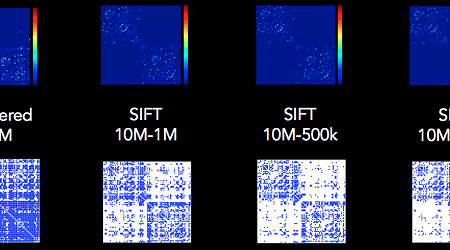 Top row: Weighted matrices by number of streamlines (NOS)
Bottom row: Binarised matrices > 10 NOS for visualisation. At > 0 NOS, the networks were similarly and highly dense across the different levels of filtering.
Interestingly, a similar observation was made in your paper "Correction for diffusion MRI fibre tracking biases: The consequences for structural connectomic metrics" in Neuroimage 2016.
Regarding the denser nature of the networks:
"The rationale behind such a difference is the probabilistic nature and conservative estimates of orientation uncertainty of the iFOD2 algorithm (Tournier et al., 2010) that produce a widespread coverage of WM. "
Could you elaborate on this please? Thanks for your patience once

Cheers,
Elijah