Hi all,
We're currently trying to perform a longitudinal FBA, but we're not sure about the statistical analysis because the outcome differs depending on the method that we use to take into account our adjusted template mask.
The group template mask consisted of regions that were not part of the brain in all subjects due to differences in FOV. Therefore, we manually adjusted the template mask with the ROI editor in mrview to exclude those regions.
In the first approach, we mapped the scalar value in each voxel to all fixels within that voxel (voxel2fixel of the template mask) and then multiplied the template mask with the mask containing a reduced number of streamlines (150) using mrcalc. We used the adjusted 150-streamlines mask to perform fixelcfestats in the regions that were present in all included subjects.
In the second approach, we used the adjusted template mask from the white matter template analysis fixel mask onwards. This way, the results were completely different. Even the regions that were significant at p<0.05 when using the first approach, were not significant at p<0.95 in the second approach.
If we overlay the index-file of the newly created fixel mask on the fixel mask of the first approach, you get the following result (the yellow cross shows the significant region of the first approach):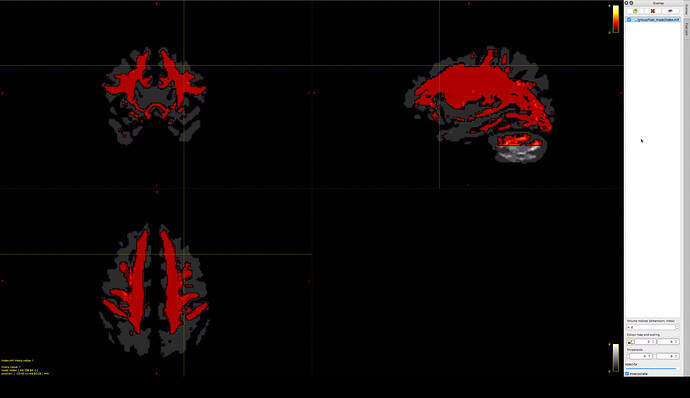 If we did the analysis without adjusting the group template mask, the results were quite similar to the first approach, except for the fact that the regions that weren't present in all the subjects, were significant as well.
Can you please explain what we are doing wrong?
Thanks in advance!
Best wishes,
Michelle