HI,
After the motion and distortion correction, I conducted the DTI to T1w alignment with the following lines.
# motion and distortion correction
dwifslpreproc degibbs.mif geomcorr2.mif -rpe_none -pe_dir PA -json_import "$dti".json -eddy_options " --data_is_shelled --slm=linear --niter=5"

# prepare for alignment to T1w
# extract mean_b0
dwiextract geomcorr2.mif - -bzero | mrmath - mean mean_b0.nii -axis 3
flirt.fsl -dof 6 -cost normmi -ref "$t1w".nii.gz -in mean_b0.nii -omat T_fsl.txt
transformconvert T_fsl.txt mean_b0.nii "$t1w".nii.gz flirt_import T_DWI2T1.txt
mrtransform -linear T_DWI2T1.txt geomcorr2.mif align.mif

and all these commands works well, but then when I overlapped the align.mif on the top of the T1w, it works badly (see below).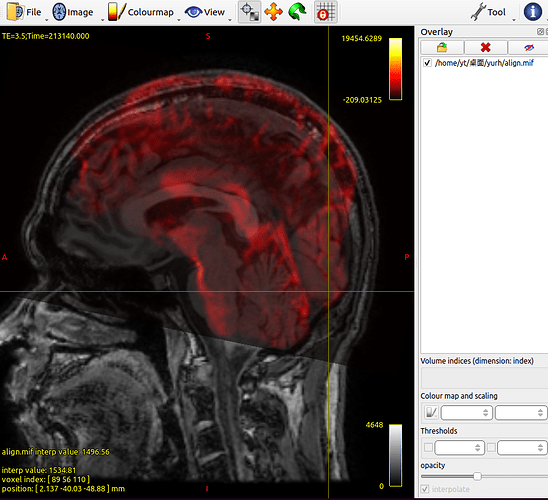 even worse than before alignment (ie. overlapped the geomcorr2.mif on the top of the T1w, see below)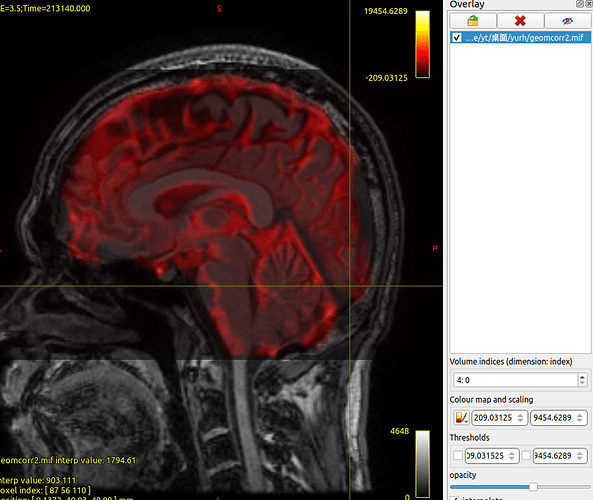 I wonder that what cause this phenomenon? Is there any problem with my lines?
Thank you in advance!!