Dear Experts,
I have used Single Shell FBA pipeline to analyze my ischemic stroke cohort compared with healthy controls. In my preliminary whole-brain FBA results, it showed reduced FD without FC changes in specific tracts. Here I have three questions:
Q1: There were also regions showed reduced FDC (which partially overlapped by the significant results of reduced FD) but the area of FDC reductions was smaller than that of FD. I suppose the change of FDC is mainly attributed to reduced FD, is this speculation appropriate?
Q2: For the scenario of reduced FD without FC changes, I consider the underlying microstructural pathology of crossing fibers is the axonal loss of fibers of a specific direction/orientation. And I also found correlations between reduced FD and behavioral scores. Based on these findings, can I conclude that:
(1) In stroke patients, there is axonal loss of specific tracts?
(2) There are associations between impaired behavioral scores and axonal loss ?
Q3: Can reduced FD without FC changes be interpreted as "axonal loss"? Is it necessary to have FC reductions when accurately interpreting reduced FD as "axonal loss"?
Some researchers may doubts the interpretation of this scenario. They think it is inaccurate to refer FD as being "proportional to the within-voxel number of axons" and interpret FD reductions as reflecting "axonal loss". They consider FD is related to the radial diffusion signal contribution or intra-axonal volume of a given fiber bundle. It captures information about number of axons, axon density, axon volume, and factors that affect the radial diffusion signal contribution, such as myelination; reduced FD may reflect axonal loss, but it is likely the wrong interpretation given the authors found no reduction in FC, which would be expected to decrease with axon loss.
In response to their above doubts, I read the article of Raffelt et al., 2017 carefully (doi:10.1016/j.neuroimage.2016.09.029). In the Fig. 9 (as shown below), Panel b) shows reduced FD of green fibers but without FC changes, and the left red box interprets the change as loss of green axons. Does Fig. 9 support my interpretation rather than the researchers opinion? In addition, Fig. 9 c) interprets the reduced FC as subsequent atrophy (the right red box). As you see, this article considers FC is a good indicator of macroscopic atrophic of fibre-bundle cross-section.
Moreover, also in Raffelt et al., 2017, Fig. 1a shows reduced FD. It interprets reduced FD is following axon loss, and the additional extra-axonal space may be persistently filled with extracellular matrix and cells related to inflammation or gliosis (as shown in Fig. 1a). However, it's also feasible that after debris are cleared, the fibre bundle becomes atrophic (reduced FC referring to Fig. 1b). Therefore, according to this article, it seems that there is no evidence that only FD and FC reduced at the same time can reflect axonal loss.
For my subacute stroke cohort:
Given that my cohort is subacute stroke patients, it seems appropriate that fibers of subacute stroke only show FD reductions without subsequent FC reductions; FC might subsequently reduce in the chronic follow-up. However, in the current cross-sectional study, do you consider my interpretation of the results appropriate?
If my interpretation is wrong or misleading, how to explain reduced FD without FC changes? In that case, I think I should propose lists of possible pathological changes; but I think the following figures of Raffelt et al., 2017 do support my understanding.
Fig. 9 of Raffelt et al., 2017: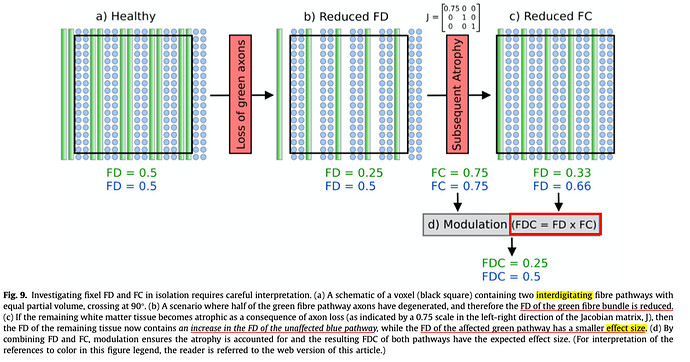 Fig. 1 of Raffelt et al., 2017: