Hi Rob,
In my group analysis (N=~200), I found that labelconvert "skipped" specifically the bilateral thalamus. No error messages until I ran tck2connectome:
tck2connectome: [WARNING] existing output files will be overwritten
tck2connectome: [WARNING] The following nodes are missing from the parcellation image:
tck2connectome: [WARNING] 76, 83
tck2connectome: [WARNING] (This may indicate poor parcellation image preparation, use of incorrect or incomplete LUT file(s) in labelconvert, or very poor registration)
Please find this figure showing the original freesurfer aparc+aseg (greyscale) overlaid with the "converted" aparc+aseg (yellow-red), which does not include the thalamus.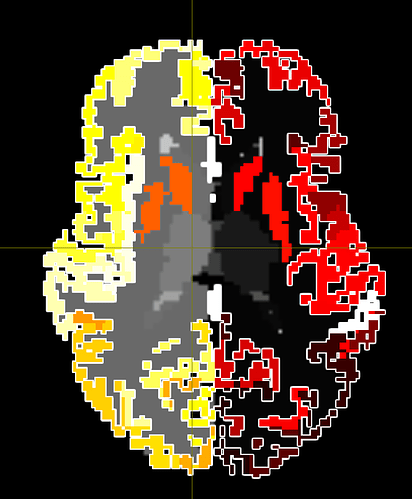 I used FreeSurferColotLUT.txt containing:
49 Right-Thalamus-Proper
and mrtrix's fs_default.txt containing:
43 R.TH Right-Thalamus-Proper
Why would this error occur only to the thalamus across all subjects??
Best,
Jiook