Hello,
I have acquired a diffusion sequence containing a small number of diffusion-weightings at b 500 (n=10) and b 200 (n=6), for free-water estimations outside of MRtrix. The other embedded shells are the now standard b 1000 (n=20) and b 3000 (n=60) weightings.
Upon viewing the response function estimations with the following code:
dwi2response msmt_5tt dwi.mif r5TT.nii wm.txt gm.txt csf.txt -mask brainmask.nii
I noticed that the response function values for the white-matter derived tissue, within each row, are not decreasing in magnitude. The b 1000 shell on later inspection (fourth row), demonstrate values that appear strangely problematic.
To note, the slm-linear option has been passed onto dwipreproc.
However, when I choose only to include the b 1000 and b 3000 shells for analysis, through setting -shells 0,1000,3000, this issue appears to be slightly circumvented:
And when using dhollander:
dhollander, now with only the b 1000 and b 3000 shells, which is more stable:
I presume that the response function estimation is not optimal with a smaller number of vectors? Moreover, if I were to be using this data for MRtrix-alone purposes (i.e. connectome generation and/or fixel-analysis), it's perhaps best that I remove these sub-b1000 shells?
I did create this diffusion vector set using an older version of gen_scheme, which is illustrated below: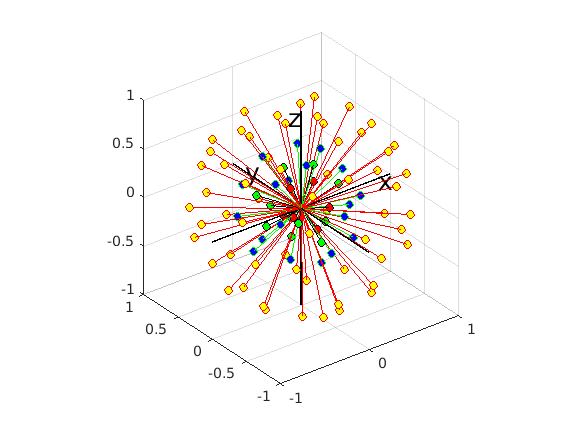 Statistically checking the metrics of the current diffusion vector set does indicate the directions of the sub b 1000 shells are "asymmetric".
(b=199.99998408333332) [ 6 directions ] 

 Asymmetry of sampling:
    norm of mean direction vector = 0.210423

(b=500.0000467000001) [ 10 directions ]

  Asymmetry of sampling:
    norm of mean direction vector = 0.101242

The full report is attached here
Some basic quality checking of the diffusion signal across the shells:
b200:
b500:
b1000:
b3000: