Dear MRtrix experts,
I would like to use mtnormalise for intensity normalisation of my (brain tumor and healthy control) subjects. I ran the following command as suggested:
mtnormalise wm.mif wm_norm.mif gm.mif gm_norm.mif csf.mif csf_norm.mif -mask mask.nii
The command runs and produces results, which seem fine for the GM and CSF, but for the WM the result looks a bit weird and the mask seems not to have been taken into account.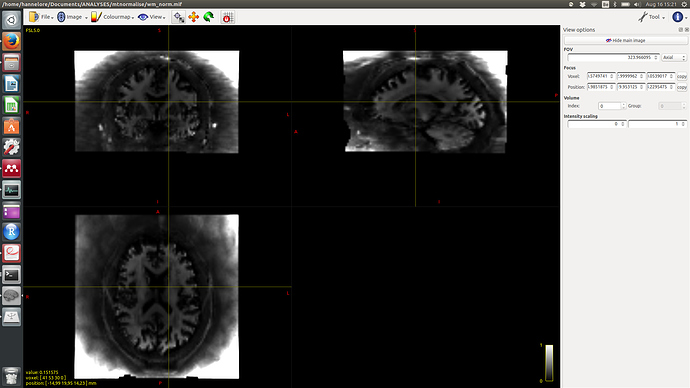 To get to the input images, I tried running dwi2response and dwi2fod both on the distortion corrected images (dwi_distcor.nii; corrected for eddy currents, motion, bias field), and on the distortion corrected + intensity normalized (using dwinormalise) DWI images (dwi_norm.nii), but the results are the same.
All data and pictures can be found via this link: https://www.dropbox.com/sh/w08f0wwqywvhzz6/AAAMQQfiu-vqzHb8N95yBZrma?dl=0. Could someone indicate whether this is normal or what went wrong?
Also, I was wondering how I'd have to proceed in order to average the individual response functions. Should I rerun dwi2response to obtain new response functions (per subject) with the normalized tissues? And what would then be the input for dwi2response?
Thanks!
Best,
Hannelore