Hello all,
My apologies for flooding this board with questions. As you may have guessed, I'm in the middle of a few large projects using MRtrix.
To estimate the cross-sectional area for a pathway of interest, I generated 10 million streamlines (whole brain), applied SIFT2, and used tck2connectome to get the summed SIFT2 weights (multiplied by mu coefficient) for a pathway between two Freesurfer labels (R IPS and R Pars Opercularis; part of SLF III). Long story short: I became suspicious/puzzled when this metric turned out to be negatively correlated (across individuals) with a behavioral metric I expected it to be positively correlated with. I decided to check the log scaling coefficients from mtnormalise and found that they were negatively correlated with the cross-sectional area metric for the tract I was looking at (R(40) = -0.32, p=.039). Looking at the scatter plot, it looks like the normalization factor is explicitly placing an upper bound on this tract's weighting.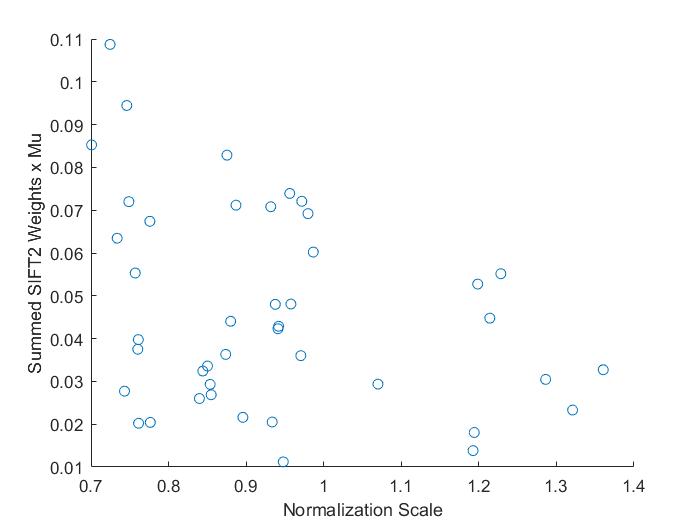 What the best way to deal with this? If the intensity normalization is working correctly, it shouldn't have any statistical relationship with the tract weight, right? If I ignore intensity normalization and perform an "old school" FA based analysis, I see the expected positive relationship, but it doesn't seem to be driven by global factors because there is no association with the contralateral tract or other branches of the SLF. This all makes me suspicious that the normalization is producing an artificial negative correlation.
I suppose my question is if normalization is really necessary or wise in this case. All of the subjects' data were collected on the same scanner with the same sequence – what are the expected sources of global signal differences in this case?. Is it legitimate in theory to re-run the SIFT2 analysis without normalization, show correlations of interest, and then show that these don't reflect global scaling differences because other candidate tracts don't show the same association (using the appropriate statistical procedures; i.e. not just showing a null effect)?
John
P.S. I looked more closely and the effect is entirely driven by the correlation between the summed SIFT2 weights and normalization scale. There is no relationship between the mu coefficient and the normalization scale.