Hello Mrtrix experts,
I am trying to replicate an analysis that uses connectivity fingerprints to predict functional responses. I have a tractogram with structural connectomes generated by QSIRecon based on several atlases, and associated SIFT2 weights. For a given region, I have to look at each voxel that makes up the region, and make connectivity fingerprint vectors describing that voxels connectivity to each region in the parcellation. So, for example, if I have 150 regions in the parcellation, and the region I am focusing on has 400 voxels, then I would be making 400 fingerprint vectors with a length of 150. Here's a figure from the paper that describes what the outcome looks like when done across subjects.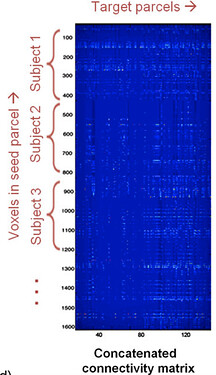 I know tck2connectome can be used to make fingerprints, and I think several of the QSIRecon derivatives will come in handy, such as the parcellation image which I can make function as a nodes.mif image. However, I suppose I am unsure how to get streamlines that originate in a given voxel (fixed_seed_tracks.tck), given that the parcellations include cortical gray matter. The original paper used an FSL-based pipeline that explicitly made 5000 streamlines per voxel and wasn't too explicit about what they defined as a seeding mask. Can you think of some way I could extract this information, or am I thinking about this the wrong way?
Thanks,
Steven