Hi I got some Siemens 7T DTI data (different protocols).
The sequence is based on a WIP (511).
The Siemens scanner automatically does some preprocessing, what they call DFC (dynamic field correction) and a basic tensor fit, which is obviously handy as it provides an online preview of the data including FAC maps, and it includes these results into the DICOM folder.
But when I trying to analyse the data using DWIFSLpreproc, the results were totally broken. I based the analysis on the "ORIG" data in the dicom source folder.
So I started to try and figure out why, so I also attempted different tools, such as the very basic FDT toolbox from FSL. To my surprise, FSL fared better than MRtrix. Still pretty bogged up, but better than MRtrix. Below I posted a screenshot of the FSL (left) estimate of FAC and MRtrix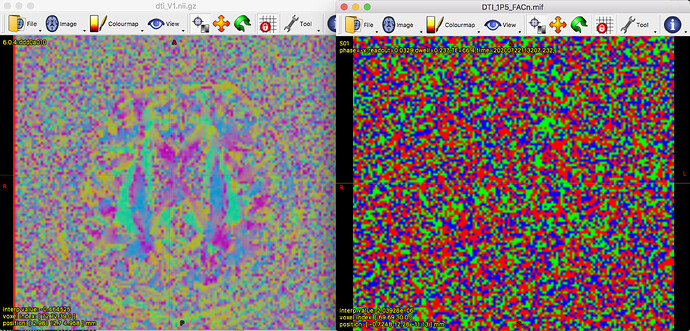 The steps I did for MRtrix are hideously BASIC to avoid making a complicated mistake.
$ dwi2tensor DTI_1P5/ DTI_1P5_DFC_tensor.mif
$ tensor2metric DTI_1P5_DFC_tensor.mif -vec DTI_1P5_FACn.mif
Likewise I did no preprocessing on the FSL DTIFIT side.
I then discovered that when I do the exact same steps but instead of importing the "orig" data from but the "DFC" data, the result looked very good.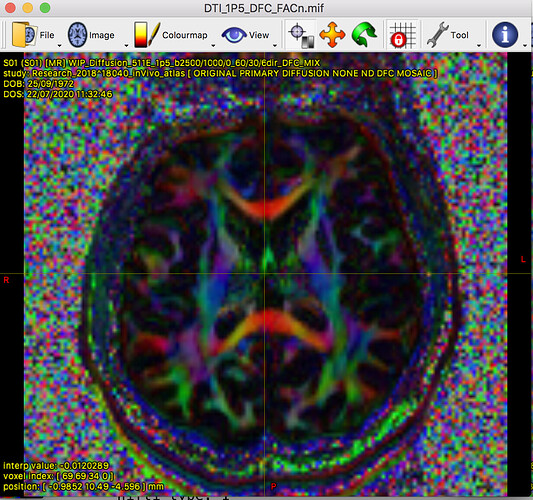 I then started comparing the ORIG data with the DFC data and noted while the changes to the data itself were minimal, the changes to the bvec was totally dramatic. I hence tried a hybrid dataset, where I took the images from the "ORIG" but combined it with the bvec from DFC, and ah and behold the results looked equally good.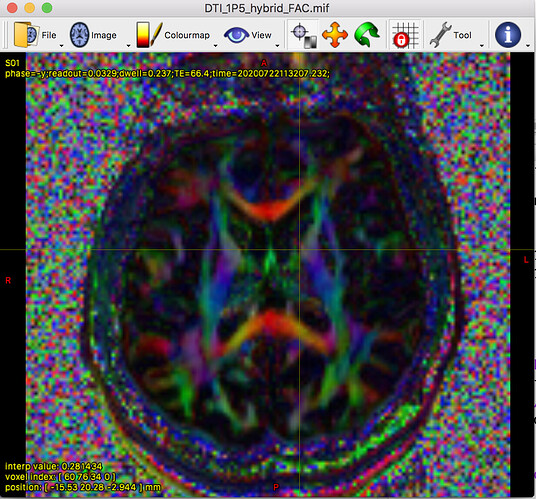 Anybody any comment on
a) what exactly DFC does
b) if it is better to continue using proper preprocessing based on the DFC data or the hybrid?
Thanks
Mark
P.S. A different DWI sequence protocol I used (RESOLVE) worked fine using the "ORIG" data, even using the super basic steps without any preprocessing.