Hi,
I'm using tcksift2 to perform an analysis aimed at individuating artifactual streamlines (false positive).
It is common sense to assume that artifactual streamlines follow either strange and jiggled path or incomplete path (they are truncated for some reason), and thus are usually characterized by high mean curvature due to the jiggling, or low length. For this reason I investigated wether there is a correlation (as expected) between length and curvature with respect to the weight factor returned by SIFT2: high curvature -> low weight ; low length -> low weight .
Here's the resulting plot: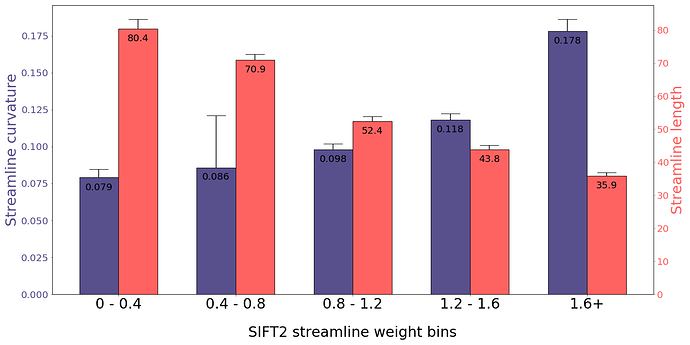 As it can be noticed the plot is showing an anti-correlation (for me unexpected) between length and weight, high length -> low weight, and between curvature and weight, low curvature -> low weight.
Do you guys have any comments or justification to this?
Thanks