Dear Mrtrix community,
I am trying to figure the exact and accurate white matter pathways using the Xtract atlas, but I am not getting an optimal result, which I generally should expect with the pre-processing using the mrtrix, I am following the BATMAN tutorial and do have modified the commands accordingly,
I have registered the atlas to the subject space and I am getting the track as shown below on the cutoff values of .40, which is pretty high, still not getting the accurate tracks.
tckgen wmfod_normalise.mif -seed_image CST_xtract.nii -cutoff 0.40 -select 200k cst_xtract.tck
Meanwhile lowering the cutoff values gives me more unexpected result, we need to use this for the pre-surgical planning, please do suggest how can I improve this infiltered tracks.
I do not know what the problem, could be, is it related to the ROI, or is it with the data, BTW data is 64 direction data and have 1 b0 = 0 and and rest are 1000, in the tckgen command I do have tried to use the seed_cutoff option at lower and higher values, that too did not solved the issue.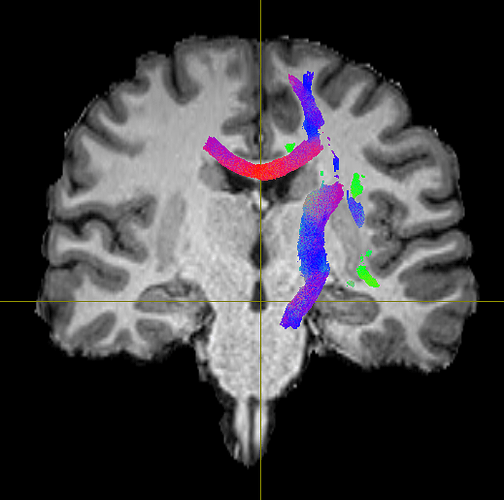 Thank you.