Dear Mrtrix experts,
From a fiber bundle (the cingulum), I would like to extract the FOD lobes that contributed to the construction of this bundle from the original FOD used to build the bundle. In order to do this, I used the following commands :
dwi2fod csd dwi.nii.gz response.tst FOD.nii.gz -grad grad.txt
fod2fixel FOD.nii.gz -peak_amp amp.nii.gz -afd afd.nii.gz fixel_from_fod -mask cingulum_binarymask.nii.gz
tck2fixel cingulum.tck fixel_from_fod fixel_from_tck fixel_from_tck.nii.gz
fixel2sh fixel_from_tck/directions.mif FOD_from_fixel_from_tck.nii.gz
When visualizing FOD_from_fixel_from_tck.nii.gz, I have something quite suprising with very small FOD lobes where the bundle seems to be the most dense.

Looking on ways to solve my problem, I discovered the command tckmap which gave me the result I was expercting from the command fixel2sh :
tckmap cingulum.tck TOD_from_tck.nii.gz -templade dwi.nii.gz -lmax 6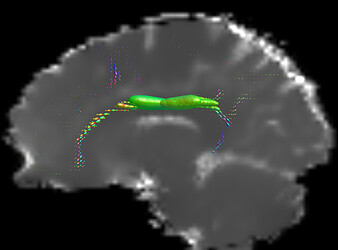 I guess I must be misunderstanding something with the use of the fixels but why do I get very small FOD lobes where the bundle seems really dense ?
Thank you in advance for your help,
Louise