Hello all,
I used the HCP data set and get connectomes of AAL atlas, the scripts are as followed:
5ttgen fsl …/raw_data/T1w_acpc_dc_restore_brain.nii.gz 5TT.mif -premasked
flirt -in /Users/bclab/Desktop/mask/aal.nii -ref …/raw_data/T1w_acpc_dc_restore_brain.nii.gz -out aal2T1
mrconvert …/raw_data/data.nii.gz DWI.mif -fslgrad …/raw_data/bvecs …/raw_data/bvals -datatype float32 -strides 0,0,0,1
dwi2response msmt_5tt DWI.mif 5TT.mif RF_WM.txt RF_GM.txt RF_CSF.txt -voxels RF_voxels.mif
dwi2fod msmt_csd DWI.mif RF_WM.txt WM_FODs.mif RF_GM.txt GM.mif RF_CSF.txt CSF.mif -mask …/raw_data/nodif_brain_mask.nii.gz
tckgen WM_FODs.mif 120wan.tck -act 5TT.mif -backtrack -crop_at_gmwmi -seed_dynamic WM_FODs.mif -maxlength 300 -select 1200000 -cutoff 0.06
tck2connectome 120wan.tck aal2T1.nii.gz connectome.csv -out_assigned sift_path
mkdir -p tck_roi
connectome2tck -nodes 1,2,3,4,5,6,7,8,9,10 -exclusive 120wan.tck path tck_roi/tck
mrview DWI.mif -tractography.load sift_tck_roi/tck1-2.tck
Based on the "-out_assignments" of tck2connectome, I created the tracks files belong to pairs of ALL regions. As I checked the track between Precentral_L and Precentral_R, there were still some tracks distributed in other areas of brain, as you can see in below picture: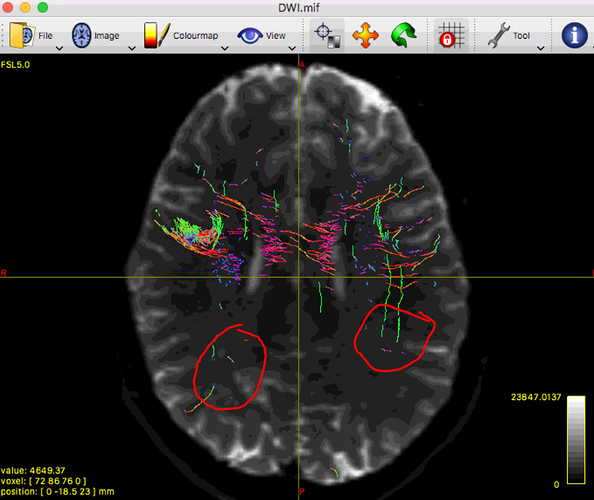 Is this a normal result or is there any error in my scripts?
Besides, I wonder if the mrview could show the tracks in a 3D way like dsistudio?
Liuyuchen