MRtrix-ers,
I'm using MRtrix and Lauren O'Donnell's Automated white matter fiber tract technique to find specific tracts in clinical cases. The results so far have been very good.
Where I could use a bit of help is visualizing the final results of the clustering. For reasons that I have not yet figured out, 2M initial tracts result in a limited number of clustered tracts, around 40K. I'm having a hard time creating good visualizations of the data using tckmap. tckmap is used to generate an overlay for the FLAIR image to visualize the relationship between tracts and lesions. My code uses tckmap with a thresholds to color any voxel that contains streamlines based on cluster. This gives a good indication of where the streamlines run.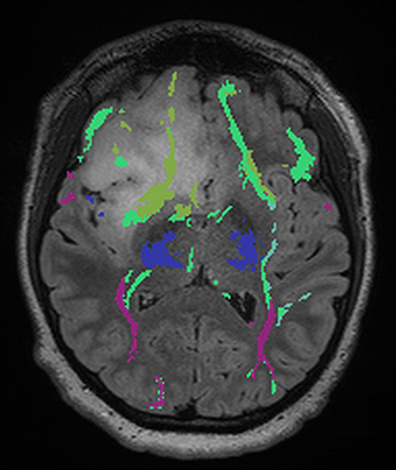 I'd also like to generate DEC images that look more like traditional tractography results that mrview might generate. This is my results so far (remember, I don't have many streamlines to use):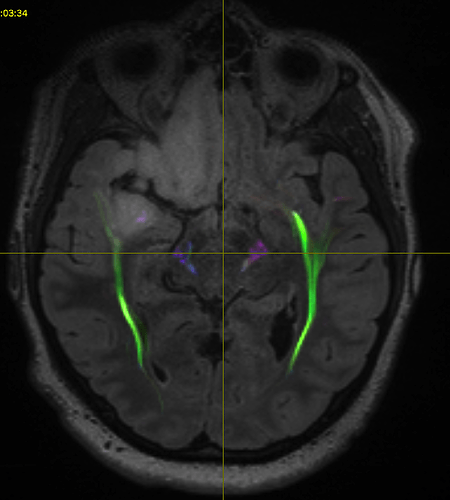 Here is roughly the same in mrview: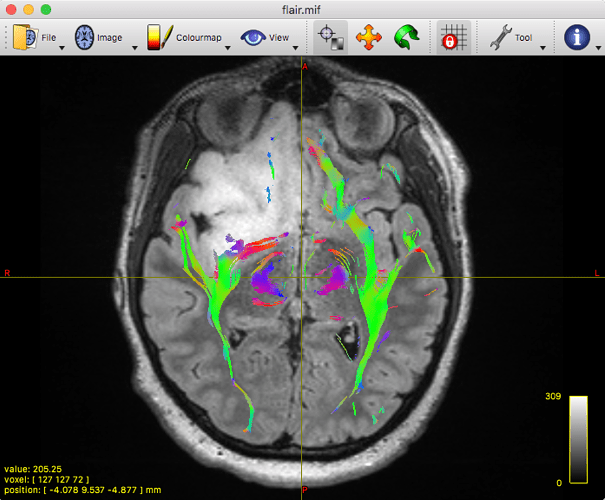 mrview shows more streamlines even when the density is low. I was hoping to generate an image more like this using tckmap, but have not found the right set of parameters. I've been using -contrast, -stat_vox and -stat_tck to tweak the visualization, but without success.
Any tips on how to have tckmap generate images closer to mrview?
# Generating the images
tckmap -quiet -force \
    -dec \
    -upsample 2 \
    -template flair.mif \
    all_bundles.tck \
    all_dec.mif
mrview all_dec.mif
# Merge
mrcalc -force flair.mif all_dec.mif 2 -mult -add merged.mif
# View
mrview flair.mif -tractography.load all_bundles.tck

Cheers,
-dan