Hi MRtrixers!
So far I've been following along the FBA multi-tissue CSD tutorial without issue (Fibre density and cross-section - Multi-tissue CSD — MRtrix 3.0 documentation) - until running the population_template command and having the occipital cortex cropped out of the template: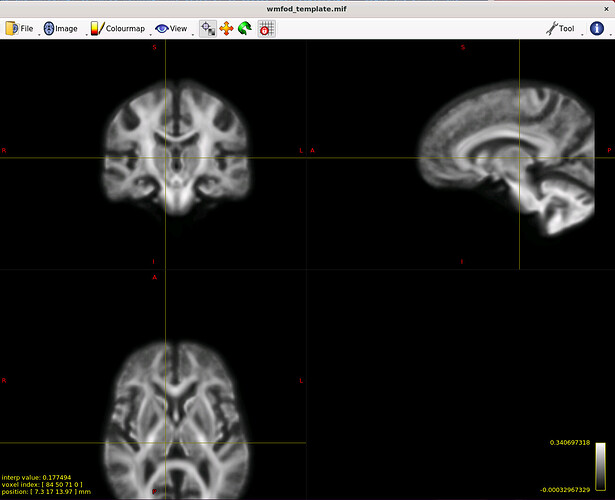 I checked all the masks to see if there was an issue with coverage - but the masks look fine. I saw a similar issue in the thread here: Population_template FOV .
I'm going to try re-running the command with the flag -initial_alignment robust_mass option to see if that fixes the issue - but in the meantime I have 2 questions:
How can I save the debug output to a file for later viewing? I tried:
population_template /study_template/fod_input -mask_dir /study_template/mask_input /study_template/wmfod_template.mif -voxel_size 1.25 -initial_alignment robust_mass -template_mask study_template/template_mask.mif -force -debug -nocleanup -scratch /data/AS_HC_Study/FBA/study_template/scratch > /study_template/debug.txt
but the STDOUT still goes to the terminal.
Anything else I should try looking at to troubleshoot while this runs?
Thanks for your time,
Ariana